Alfabet Ciała, 1974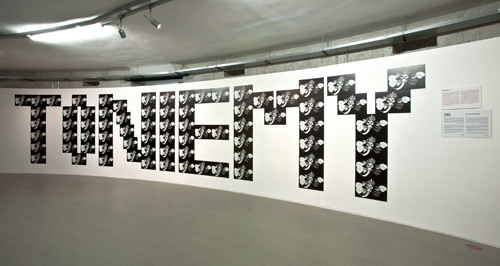 TONIEMY, 1998/2012
Photo by: Wojciech Rogowicz
TONIEMY
TO NIEMY
TO NIE MY
Motto:
…Here B.. rose from the chair and shouted "Menego.'" but as he didn't apply the Venetian quantity but lengthened the menego in the polish manner so the boy entered upon it "How's that, Sir? How's that, are you drowning, Sir (for menego means "I am drowning" in the Venetian dialect) how's that? He repeated again, why, today gondolas haven't been cruising all over St. Mark's Church and the cafe is bone-dry……Having arrived there, l came ocross a gondolier, he stood over o handful of clothes, beside him a police minion and two English ladies with albums. B. Hoving paid off the gondolier, had told him that he wanted to take a bath… but he had ventured too far into the waves…
Cyprian Kamil Norwid: "Menego"
Like a lot of other people in Poland, l, too, had a bad experience of the flood of July 1997. It was undeniably a disaster in the face of which man's powers turned out to be extremely limited. Television, radio, newspapers, camera-reporters and film-recorders had at last found a grateful theme for lengthy reports. The real flood is accompanied by deluge of information on the event.
We are submerged in humdrum tasks and our activity is in danger of going down. l am curious not at the results of that extraordinary flood which threatened many but at the results of the deluge of rote banalities and humdrum tasks in which we all flounder without being aware of it.It seems to me that art is one of the few spheres of the inner man which guard against a flood, do away with inundation and prevent one from drowning in nothingness.
Art is like love, only it is likely to survive, only it is important.
NATALIA LL, 9 December, 1997
Translated by Henryk Holzhausen